Valentines Day has never really been a huge day around our home. Sometimes, it even goes unnoticed. I don't know, maybe in the future I'll do a bit more, who knows.
Hubby and I did celebrate it a bit by taking the kids and my mother-in-love out to eat yesterday after church and then he and I had a wonderful date night at Valentines Banquet at our Church.
This morning, however, I received a special Valentines gift from my husband. Honestly, though, he's probably even unaware that he gave me anything. But he did.
I got to pray for him.
I know. That seems like such a small thing. I mean I pray for him every day, throughout the day, anytime I think of him.
You see, most every morning, my sweet husband takes my hands and prays with me, over me, for me… before he leaves out the door each morning on his way to work. It has meant more to me than he will ever know.
But this morning, I knew he didn't sleep well and was having a really hard time getting out the door. He was not looking forward to the day after the night he had and I asked to pray for him instead. And I did.
What a priveledge to lift the man I love up before HIS throne and ask mercy on his day. What an honor.
And so, unbeknownst to him… I received my Valentines Day gift. And what a gift it was.
I continue to count the blessings today (#12-15):
A wonderful date night with my husband along side the fellowship of wonderful friends
A son responsible enough to handle the children so that daddy and mommy can have a special night
Coming home to a clean house gifted to us by our blessings
The gift of prayer with my husband
A new day, a new week, a new beginning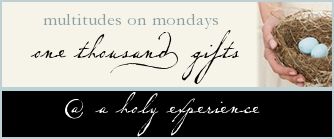 I'm just one in a big community of those scribbling down the treasured moments. Maybe you have your own?
If you enjoyed this post, make sure to...